Alabama Tourism Board and Alloy Launch the Civil Rights Trail App
Alloy Digital | March 19, 2021
The Alabama Tourism Department has revamped its Civil Rights Trail app to provide a better user experience for everyone to explore the history of the state's role in the movement. Originally released in 2014, the updated app allows for the exploration of key civil rights landmarks, museums, trails, and public spaces to assist those planning a visit across the state or wishing to learn more from afar. Alloy designed, developed, and launched the evolved application in February of 2021.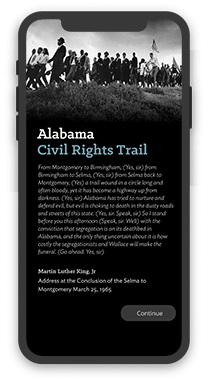 Now, visitors can experience the legacy of civil rights legends who ignited change, discover state civil rights landmarks, museums, trails, and public spaces to visit and browse the app's media library to check out the sights, sounds, and voices of the movement. They can explore Alabama's significant Civil Rights Movement events, such as the Freedom Rides, which will commemorate 60 years this May.
"This accessible and interactive digital experience brings forth an incredibly important part of our history," said Alloy's president, Matt McKenzie. "I'd encourage anyone to explore this application with their family and use it as a tool to reach and engage younger generations."
An interactive timeline enables users to explore the events that transformed the nation and spurred all in the fight for racial equality. Those who share their location can learn more about nearby civil rights landmarks and their history. Visitors can also bookmark favorite destinations, media, and people on the app so they can dive back in right where they left off when the last exploration ended. The app operates on the latest iOS and Android systems and allows downloads to newer devices.
"Restructuring the Civil Rights Trail app to provide a more cohesive story of the role our state played in the Civil Rights Movement allows visitors the chance to explore the monumental events that shaped our nation's history and continue to shape its future," said Lee Sentell, Alabama Tourism Department director. "I invite all travelers to utilize the app and its many features to further explore the many places in our state that exhibit the travails, and more importantly, the triumphs of the Civil Rights Movement."
The free app is available for download in the Apple App Store and Google Play Store.
---