Westage Luxury Condominiums - Immersive, 3D, Pre-Build Real Estate Tours Alloy builds a 3D-enabled, touch-table interface to pre-sale 60 condominium units (75% of the total).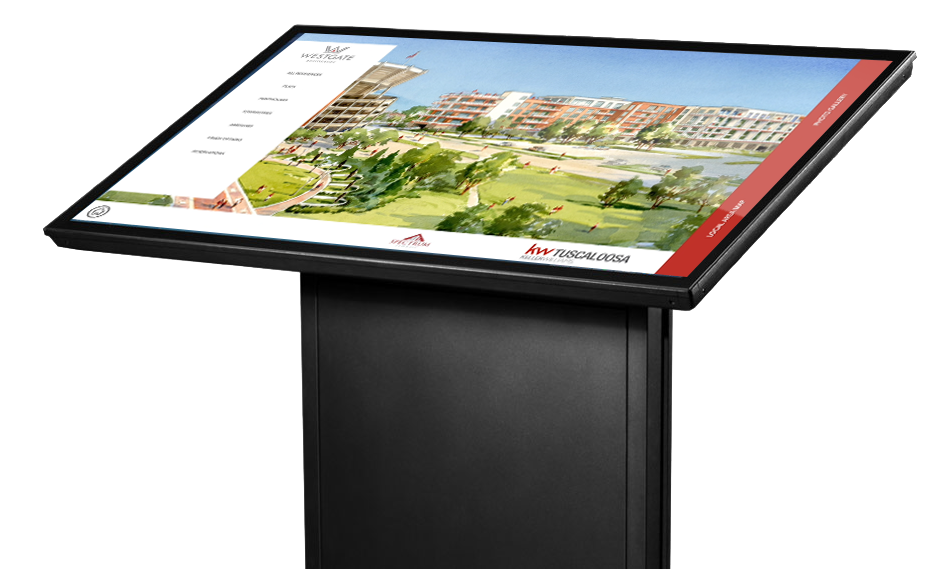 ---
Project
Spectrum Capital announced Westgate Luxury Condominiums, a high-end complex with a high-end audience. Before construction could begin, 60 units needed to be sold sight unseen. Spectrum Capital looked to Alloy to develop an interactive experience for prospective owners to envision their units and the entire Westgate property virtually.
---
Services Used
Web Design, Strategy & Creative Development, Custom Software Development
---
Technologies Used
Remote Deployment, C#, WordPress, Unity, Ideum touch table, API Integrations, Mailgun, Google Maps
---
The
Background
Spectrum Capital was granted conditional financing approval if they were able to sell 60 units before construction began. Prospective owners would not be able to view units or the property ahead of making a significant financial commitment. Westgate knew that a traditional approach of 2D images wouldn't suffice, and frankly, would not appropriately showcase the property's opulence. 
Alloy generated a cutting-edge solution that would help prospective owners comfortably make a purchase decision. Westgate luxury condominiums are unique in that you don't have to compromise luxury for convenience. The condominiums are located just steps away from the west gate entrance at Bryant Denny Stadium, which is used to access private box suites and other deluxe amenities  in the stadium.  The challenge would be to tell prospective owners of the amenities and conveniences they would be afforded, but to help them envision what a condo and property would look like.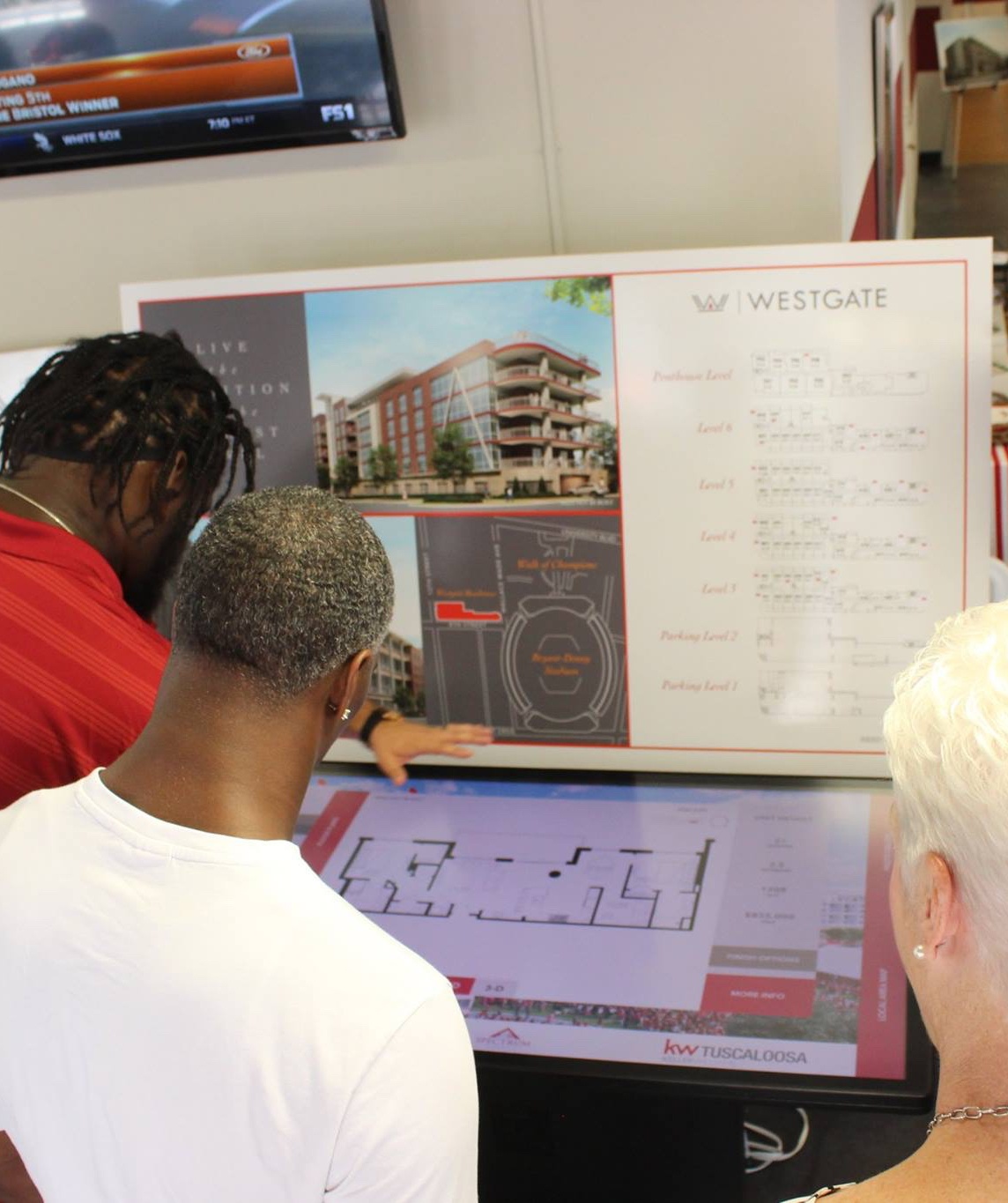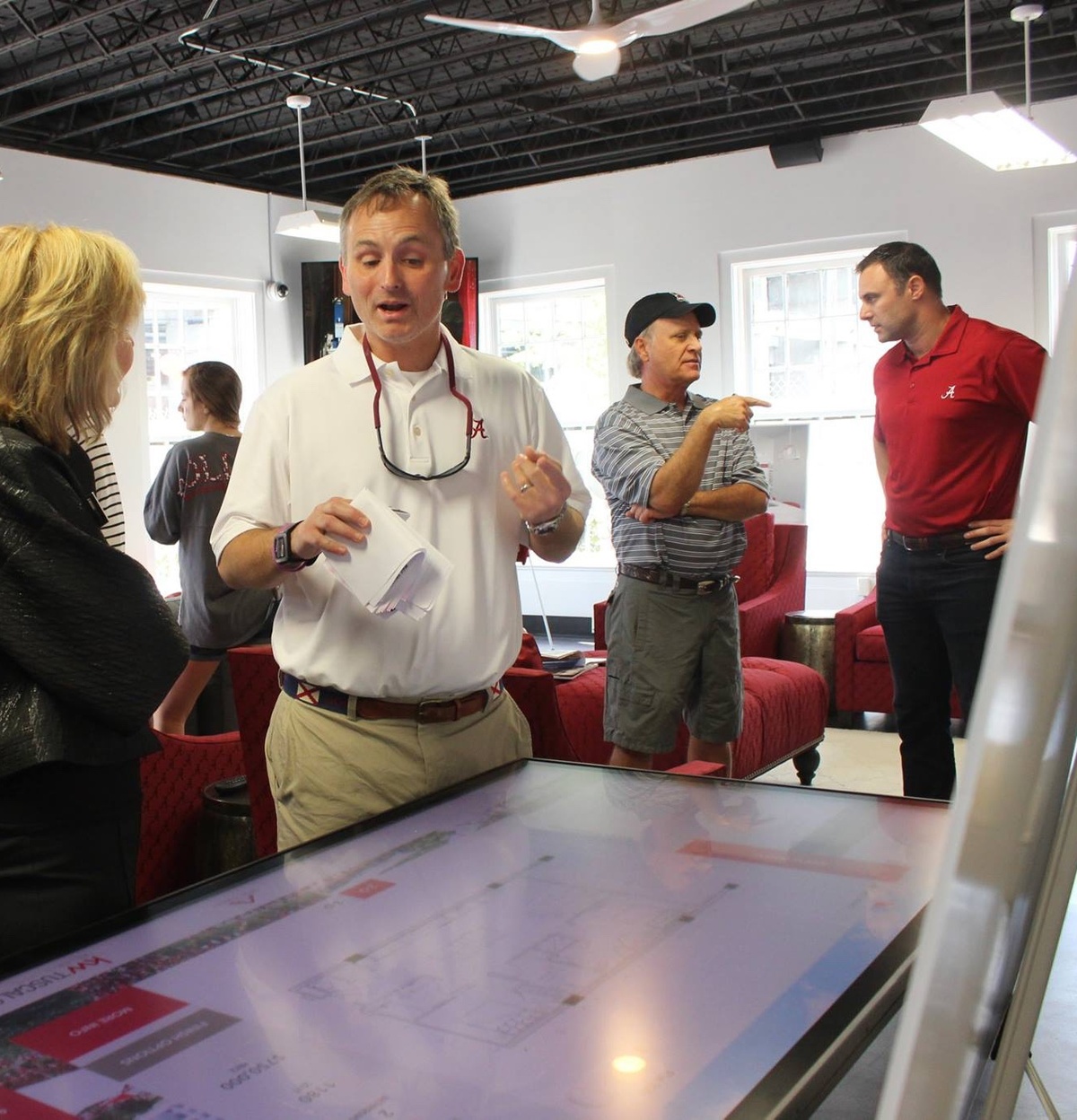 ---
The
Challenge
Game weekends in Tuscaloosa are packed. Many prospective condo owners were  planning to attend the Alabama vs. Texas A&M game. Alloy created an innovative solution utilizing the sophisticated gaming engine, Unity. Using Unity and a 55-inch table top touch device, Alloy created an immersive in-person experience that allowed prospective owners to see 3D renderings of condo models, balcony views, common areas, and aerial perspectives.
This technology was deployed within days. Code was deployed quickly using DropBox, and testing was done in real time. The Alloy team worked tirelessly up until moments before launch to ensure smooth operation. The technologies used and processes implemented were both cutting edge and were custom created to help Spectrum Capital meet their goal.
---
Features
& Process
Highly usable design
Tabletop touch device allowed prospective owners to conduct a personal real estate tour.
Leveraging 3rd party platform
Using the 3D Unity gaming platform provided a semi turn-key solution to help produce this custom experience efficiently.
Integrating with the Wordpress API
Allowed a way for the client to update content in real time and cost-effectively.
Rapid prototype & Development
Software was tested in real time so we could work directly with the application to produce code quickly. Code was deployed using DropBox to streamline the development and QA processes.
---
The Result - Westgate sold 60 units pre-construction, which secured project financing.
Sixty new luxury condominium owners were able to make purchase decisions without having toured any properties, but using technology that Alloy developed and implemented within days. Financing for the project was secured, and the condominiums were built.