Southeast Toyota Distributors (SET) and JM Family -- A 20-year+ technology partnership.

Through a 20-year technology partnership with the world's largest independent distributor of Toyotas, Alloy has created over 100 consumer and dealer applications that drive vehicle sales and fully integrate all 177 Toyota southeastern-based dealerships.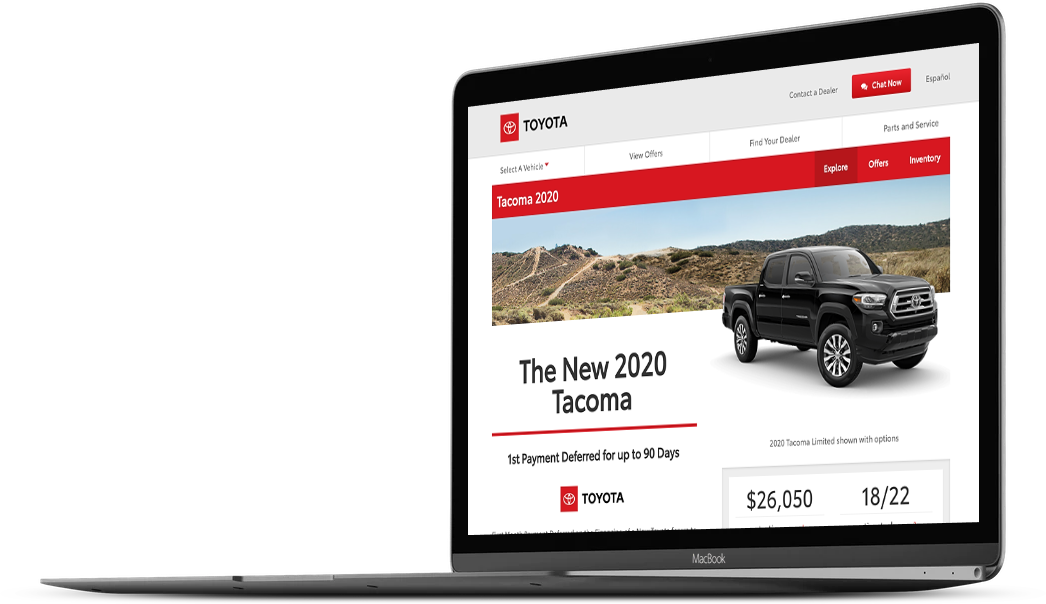 ---
Project
From design and development to maintenance and optimization, Alloy's end-to-end turnkey product development solutions provide numerous mission-critical applications for SET's consumers and dealers alike. Alloy's applications include, but are not limited to, SET's Buyatoyota.com, dealer applications, and data normalization, management, and distribution. Through transparent communications and honest, upfront expectations, Alloy consistently completes projects on time and on budget. Alloy continues to work with a number of cross-functional business units and teams at SET and JM Family to drive year-over-year increased sales for dealers, helping make Toyota the dominant brand in the region.
---
Services Used
Web Design & Development, Mobile App Development, Digital Strategy & Consulting, Custom Software Development, Usability Testing, API Development, Design, Disaster Recovery, Secure & Scalable Servers, System Architecture, Software Development, Technical Requirements, Third-Party Integrations, UX Analytics, UX Research, UX Review, Wireframes
---
Technologies Used
C#, Node Js, Javascript, Wordpress, AWS EC2, AWS Cloudfront, AWS RDS, AWS Lambda, AWS Elastic Beanstalk, AWS Api Gateway, HTML 5, Figma, Adobe XD, CSS
---
The
Background
Southeast Toyota and JM Family needed a technology partner to solve business issues and drive sales. To grow market share, they required integrated digital experiences for customer and dealer-facing applications, as well as enterprise data management. To achieve this, Alloy approaches each application separately based on a combination of business goals and user expectations. 
For the consumer applications, SET's primary goals were to create leads, answer product questions, connect customers to dealers, and to provide easy-to-use, satisfying experiences. For dealer applications, SET desired to make dealers more efficient in locating vehicles, managing inventory, trading vehicles, and understanding sales and sales incentives. For enterprise data management, SET needed to normalize, manage, and distribute real-time data to ensure that data is the same across all consumer touchpoints.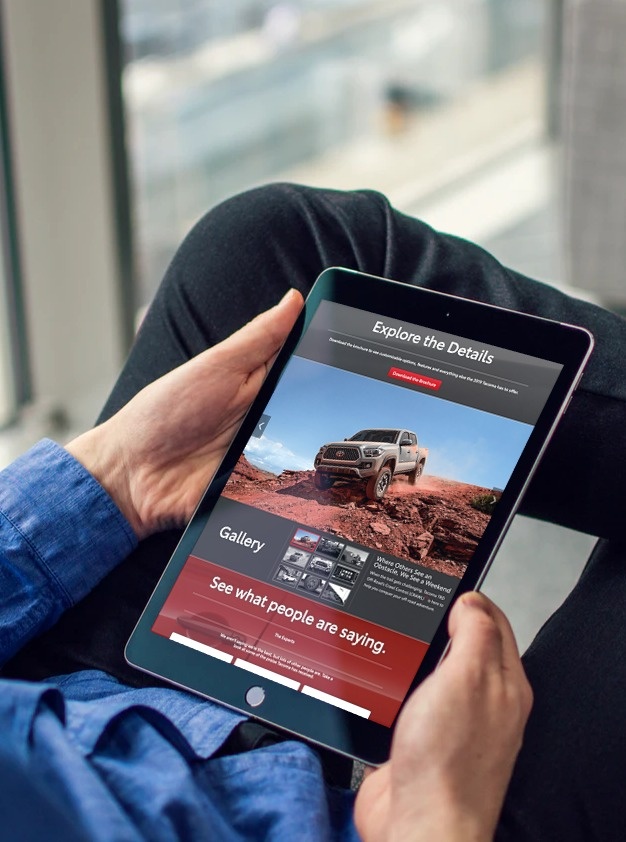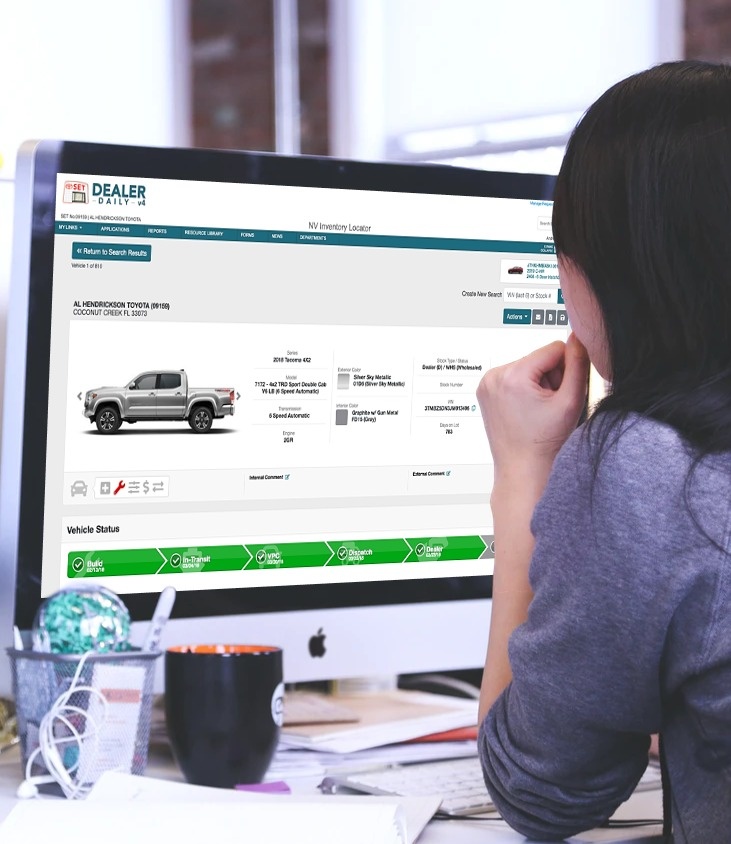 ---
The
Challenge
From inception to today's optimization, Alloy has developed and maintained SET's number one lead generation platform, explore.setbuyatoyota.com. Alloy continues to lend expertise in agile development and behavioral economics to drive a user-friendly consumer-focused application where customers can research products, view current offers, check available inventory in real-time, locate a dealer, schedule service, and have their questions answered via chat.
To help dealers sell more cars, Alloy has developed numerous dealership management applications. Today, an optimized version of Vehicle Locator allows dealers to view their available inventory, as well as other SET dealers' inventory, making it easier to implement virtual swaps. The Incentives Dashboard provides sales and objectives data in an easy-to-understand and track dashboard.  Data is continually updated and optimized, giving dealers quick access to their monthly incentives progress in real-time.
In order to facilitate the distribution of normalized data, Alloy developed a set of secure, high availability services for consumption by dozens of SET partners. Any time there's an update to the data, it's propagated in real-time, providing an ideal experience across all customer touchpoints.
---
Features
& Process
Full-Stack Product Development
From strategy to optimization, from the front-end to the back, Alloy solutions support product development lifecycles and provide full-stack product development for SET.
Understanding the End User and User Experience
The key to any great experiences is being intimately familiar with the end-user and their unique needs. Every project and product that we build for SET includes an in-depth analysis and understanding of end-users and their requirements.
Driving Leads through an Easy-to-Use Customer Experience
We pride ourselves on delivering value to the bottom line. For SET, we've built and managed the engine that helps power their business. Our consumer experiences match customers to dealers through inventory and strategic offers to create a conversation to supply their perfect vehicle.
A Trusted Partnership Enabled through Subject Matter Expertise
At Alloy, we hire, train, and retain senior-level engineers who strive to understand our client partner's business. This allows us to stay continually engaged in all phases of the project lifecycle without the need for background training. Our familiarity with the business, the data, the technology, and their systems allows us to always hit the ground running and deliver concrete value.
Mission Critical Application Development
Alloy's partnership with SET and JM Family is long-standing and trusted. That's evident in the fact that we build mission-critical applications and experiences that help run and grow the business.
A Data-Driven Partnership
The Alloy and SET/JM Family partnership is founded on data. Alloy leverages consumer, application, product, sales, inventory, incentives, web, interaction, and inventory data to build and optimize mission-critical applications. In addition, Alloy integrates and distributes data to dozens of SET and JM Family partners.
---
The Result - Alloy's partnership with SET and JM Family help drive year after year sales records.
Alloy's user-friendly, data-rich experiences eliminate friction and deliver value to SET's and JM Family's independent dealerships and customers. By helping sell more vehicles and providing customers with better experiences, Alloy has helped SET and JM Family to become one of the largest private companies in America. Through SET's continued commitment to technology partnerships and the customer, they sustain a history of exceeding sales goals.